Foundations Online:
Solar PV System Design & Installation
$695 – 40 Credit Hours
Online Course Access Starts Immediately
12-months Access to Course Resources
Bi-weekly Instructor-led Online LIVE Topic Sessions
Wednesdays 5:30p-6:30p CST
E-learning campus, open 24 hours a day. 40 hours of self-paced online lesson material:

Extensive design exercises and interactive problem sets. Immediate feedback and grading
Instructional videos of instructors showing problem set and exercise solutions
Custom slidesets and video lectures
Reading assignments, & downloadable resource materials

Instructor-mentoring through email and Q&A Forum
Our Foundations Online: Solar PV System Design & Installation course is designed to provide you with the knowledge you need to launch your career in the fast-growing solar industry. You will gain the in-depth understanding of PV systems essential for virtually any role in the solar industry;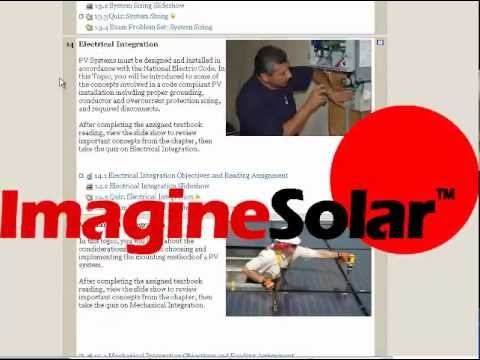 View a video introduction of the Foundations course
Course also includes:
- textbook: Photovoltaic Systems: 3rd Edition, by Jim Dunlop
*no international shipping; $70 refunded to international participants
This course is based on the NABCEP (North American Board of Certified Energy Practitioners) Entry Exam Learning Objectives and the Task Analysis for the PV Installation Professional Exam. After completing this course, participants are eligible to sit for NABCEP's Entry Level Exam. Click here to purchase the NABCEP Entry Level Exam.
Live instructor support by email and telephone, as well as biweekly Online LIVE sessions give students access to guidance and expertise while taking the course.
This online, self-paced course is incredibly content-rich: stocked with webinars, animations, slidesets, instructional videos, downloadable materials for offline study, as well as quizzes (more than 150 questions) and exam problem sets (more than 140 exam problems) with immediate feedback and grading. The exam problem sets are similar to what you can expect on solar certification exams.
To gain hands-on experience to complement your online learning, enroll in our Advanced One Day Lab which takes place in our state-of-the-art solar field lab. You can take the lab before, during, or after your online course as it is a stand-alone workshop, providing 8 hours of advanced credit.
Who is this class for?
No matter what your experience or background may be, you can use what you learn in PV201e to launch your career in the solar PV industry or to determine if an investment in solar is right for your property. This course is designed for:
Home Owners, Business Owners, and Facility Managers
Electricians, Engineers, and Architects
Entrepreneurs, Sales & Marketing professionals
Contractors, Builders, and Remodelers
All other who want to become solar industry professionals
Had an excellent follow-up interview last Thursday, and a KEY item that impressed him was the PV201 course. Thanks again! –Chris Jones 1/19/15
"Thank you, very informative course." –Daniel  Smith 1/1/15
"It was an amazing experience taking this course online. I am very confident to be successful in PV installation and design market. Thanks." –Guy Koloko 11/3/14
"With a [megawatt] already under my belt , this course was still very informative and I learned that you can never know enough about a subject. thank you very much. I look forward to taking the entry level test and advanced class in the spring." –Charles Cameron 8/21/14
Register for the Foundations Online course
Course Fee
Location
Dates
Times

$695.00


Course Details
Online LIVE bi-weekly Topic Sessions start and
Course Opens Immediately Upon Registration
12 months access to course

Add to cart
Course Fee
Location
Dates
Times

$1,595.00 (including $100 early discount)


Course Details
Bundled price for 2 Courses:
Advanced 5 Day Workshop
+ Foundations Online Course
Start Online Now – Attend Workshop:
Sat June 4th-
Weds June 8th

Add to cart
Course Fee
Location
Dates
Times

$1180.00


Course Details
Bundled price:
Solar Business Pro Certificate
2 Courses | 100 Hours
Foundations Online: Solar PV System Design & Installation
Ongoing | Start Anytime
Advanced Online: Solar PV System Economics & Technical Sales:
Ongoing | Start Anytime

Add to cart
Course Fee
Location
Dates
Times

$2,180.00 (including $100 early discount)


Course Details
Bundled price for 3 Courses:
Advanced 5 Day Workshop
+ Foundations & Advanced Online Courses
Start Online Now – Attend Workshop:
Sat June 4th-
Wed June 8th

Add to cart
Purchase Entry Level Exam
Course Fee
Location
Dates
Times

$120.00


Course Details

Castle Worldwide Testing Center

Multiple Locations Worldwide

to

Add to cart