Advanced PV Power Package |

$1695
3 courses | 80 Credit Hours
*
1495

w/ 60-Day Early Bird Discount*

1.  Online: Foundations of Solar PV System Design & Installation

2.  Advanced PV Project Experience: 5-day Workshop

3.  Solar Technical Sales: Online Short Course

The Advanced PV Power Package earns you eligibility for taking the NABCEP Photovoltaic Associate exam, as well as 40 hours advanced training hours toward NABCEP Pro Installer Certification.

ImagineSolar's Advanced PV Power Packages provide a combination of blended onsite, online, and Online LIVE support from ImagineSolar staff.
Upcoming Dates:
• April 6th-10th, 2018
• July 13th-17th, 2018
• September 28th- October 2nd, 2018
• January 25th – 29th, 2019
*Important Notice: After submitting your payment, click the 'Return to Merchant' button. This action will reveal your Course Enrollment Key and instructions to access your course.
Feedback from our customers -
November 2016 workshop:
"This is one of the best courses I have ever taken (30+ years as an engineer and thermographer with lots of continuing educations classes).  Lots of practical information and examples – all the instructors are knowledgeable and have tons of experience in the industry."
- Alan K., Civil Engineer & Inspector
"The course provided a complete 'snapshot' of how to work and install solar.  Great presentation! Mike Kuhn's love for solar came through his explanations, and allowed for open discussions among the class participants."
- Todd S., Entrepreneur
"Valuable real-life experiences conveyed to the class.  Online resource is very helpful.  I liked the discussions regarding application to actual installation situations."
- Linda H., Solar Business Owner
"Wonderful instructors with great information and insight into the solar industry."
- Jon M., Electrician
"I enjoyed the opportunity to ask questions and especially the time taken (by each instructor) to provide a thorough response.  I also like that multiple people taught the class – this allowed different perspectives to be appreciated."
- Gary G., M.S., MBA, Entrepreneur
"Verbal and written material was very exemplary, well organized!  Good mix of reading, video, problems, lab, exercise, lecture, etc."
- Larry K., P.E., J.D.
"All the instructors were very knowledgeable in all aspects of the industry.  The hands-on approach was very important!"
- David K., Solar Business Owner
"All questions answered, logical order, love the handouts;  I was curious as to how the industry has changed in twenty years – I think it is time to jump in!"
- Bob W., Master Electrician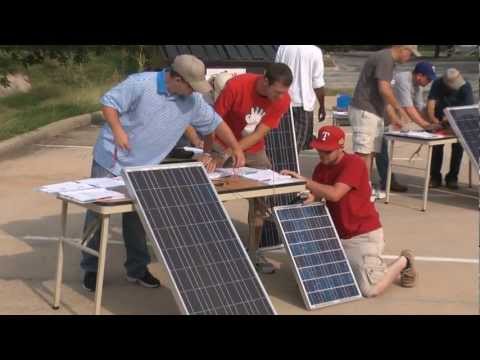 Who is this class for?
Home Owners, Business Owners, and Facility Managers
Contractors, Builders, and Remodelers
Electricians and those skilled in electrical construction
Engineers and Architects
Entrepreneurs, Sales & Marketing professionals
Everyone else who want to become solar industry professionals
No matter what your experience or background may be, you can use what you learn in the Advance PV Power Package to launch your career in the solar PV industry.
To register for the Advanced PV Power Package:
Option 1: Purchase the course using the Buy Now button below.
Important Notice: After submitting your payment via PayPal, be sure to click the 'Return to Merchant' button. This action will reveal your Course Enrollment Key and instructions to access your course.
Click the Buy Now button above for the package including the April 6th-10th, 2018 workshop

Get a $200 Early Bird Discount by registering 60 days before the start of the workshop!
Option 2: Call us at 512-443-5725 to enroll by phone.
Doesn't fit your schedule? Live outside of Austin?
Start your training today with our Online: Foundations of Solar PV System & Installation course.
Or if these dates don't work for you, join our Interest List for information on future training dates.
Join Interest List
"Very well conducted course. Glad that I came and with no working knowledge of the subject, I feel that I have learned a lot" –Matt Foster - 4/9/14
"Any question that was asked was answered and not cut off." –Daniel Zweiner - 4/9/14
"This course definitely helped de-mystifying the subject of solar-PV power in a clearly organized and well-designed manner.  The hands-on activities added to the overall experience of a fun course." –Denis Guleiof
"Course was well done.  I feel like I'm leaving with significantly more knowledge than I came in with… If asked I would recommend to another person." –Jon Gorman
"A combination of Michael's perspective & Doug's practical know-how was amazing." –Jeffrey Mathews
"Excellent presentation, down to earth, easy to understand." –Don Garritano
"Doug's experience with hands-on installation and NEC code made the course invaluable.  The instruction has been excellent and met my need for practical experience."  –Sam Zoker
"ImagineSolar instructors: Thanks for your hard work this week with our solar class.  Each of you helped our local understand the benefits and importance of solar energy!  You made it fun to learn PV!  Your patience and upbeat attitude with each of us was very kind.  Your love of teaching solar energy has an energy all its own!  Whatever level we are able to work with PV we will always be grateful to our instructors at ImagineSolar for having introduced us to the PV industry.  Your new friends, David C. Etter and all the Brothers from Local #20, I.B.E.W."–David Etter, Dallas, Texas
There was no time wasted. Every moment was spent on useful topics.–Christopher Langham