Online: Advanced Solar Business & Technical Sales
$695 – 60 Advanced Training Hours
Fulfills NABCEP's PV Technical Sales Professional Certification Exam application requirements.

Start anytime

12 months of access to course resources
This course takes an in-depth look at the principles and practice of Solar Business & Technical Sales.  This self-paced online course is based on both the North American Board of Certified Energy Practitioners (NABCEP) Task Analysis, as well as ImagineSolar's years of experience as solar industry practitioners and policy makers.  The course has over 18 hours of video lectures, and includes over 500 questions in the exercises and the exams.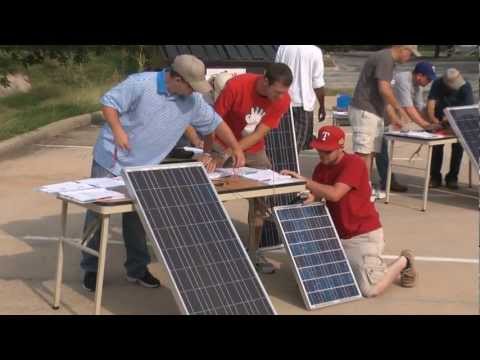 Part 1 (Lessons 1 through 6) focuses on Solar PV Marketing and Technical Sales.  Course participants learn several topics essential to the process of qualifying prospective customers, conducting customer site assessments, developing conceptual designs, calculating expected performance, calculating the non-financial benefits, and preparing customer proposals for solar photovoltaic systems.  In addition, they will learn about the process of commissioning, monitoring, & turning-over the PV system to the customer.
Part 2 (Lessons 7 through 12) focuses on Solar PV System Financial Analysis and Financing.  Course participants learn several topics essential to the process of understanding utility rate structures, the new Value of Solar (VoS) tariffs, net metering, and incentives (rebates, PBIs, tax credits, etc.).  Also, they learn how to do the cost breakdown analysis for an installed PV system and how to calculate the financial justification for solar customers.  They will learn about the options for PV system financing including loans, leases, and power purchasing agreements.  In addition, they will learn about the future of distributed generation using PV systems as new policies are being implemented throughout solar markets.
The self-paced format is designed to provide participants the ultimate in flexibility combined with instructor support.  All registrants will receive 12 months access to the course lectures and materials, as well as instructor feedback and special Online LIVE Topic Sessions.  Our online campus is available 24 hours a day, 7 days a week.
If you do not have a background in PV technology, we strongly recommend (but do not require) that you participate in the Advanced PV Power Package or the Online: Foundations of Solar PV System Design& Installation to build the foundation for this advanced course.
Who takes our course?
• Entrepreneurs, Technologists, and Investors
• Contractors and Builders
• Insurance and Real Estate Professionals
• Project Developers and Financiers
• Technical Sales & Marketing professionals
• Electricians and Inspectors
• Engineers and Architects
• Solar Company Employees
• Aspiring solar industry professionals
Option 1: Purchase the course using the Buy Now button below.

Important Notice: After submitting your payment via PayPal, be sure to click the 'Return to Merchant' button. This action will reveal your Course Enrollment Key and instructions to access your course.
Option 2: Call us at 512-443-5725 to enroll by phone.
I've taken this course [PV250] from ImagineSolar (in the classroom) and can highly recommend it for anyone starting to get serious about their passion for all the the solar industry offers, and, of course, for anyone in the industry ready to increase their professional credentials.–Scott Burton